Monday, December 5, 2016
The third day of our family vacation to Los Angeles.
Breakfast
Still a little jet lagged, we wake up by 6:30. We're staying in a Fairfield Inn that has a food court area and we go there to buy breakfast sandwiches.  We eat the sandwiches in our room.
We a little anxious to get to Disneyland, but it doesn't open until 9am. So we're twiddling our thumbs…
Disneyland!
We arrive at the baggage check outside of Disneyland (and California Adventure). It takes a while to get through baggage check. Seems like a lot of family have loaded up their strollers like a pack mule, so there is a lot for the security staff to check.  When we get to baggage check we breeze through since the Tracy and the girls only have one bag each and I have nothing.
We're in line waiting to get into Disneyland by 8:15. At 8:30 they start letting folks in. Since this is our first day, they take our pictures and associate them with our paper passes (no magic bands!).  On subsequent days they will just scan our passes and visually check to make sure that we're the same people.
The park doesn't actually open until 9am. While we wait we get our "first visit" buttons on main street. We also stopped to look at these beautiful moving displays in some of the windows.  They display scenes from Disney movies and every once in a while they rotate around and the scene completely changes. My picture won't do it justice but here's a scene from Princess and the Frog: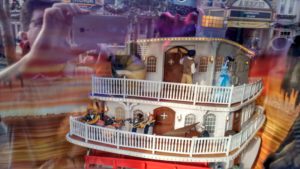 The rope drops at 9am separating Main Street from Tomorrowland. First ride, Hyperspace mountain! Ceilidh has been looking forward to this for months. At one point she was convinced they wouldn't have the Hyperspace overlay during our trip and instead it would be just plain Space Mountain, but fortunately they still have the Hyperspace overlay.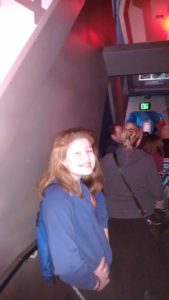 Next is the Buzz Lightyear ride. We find this version more enjoyable than the Disney World one. You have more range of motion because the guns aren't attached to the cart.  I, of course, got the high score out of our family 😉
Before lunch we checked out Autopia, which is like Disney World's Tomorrowland Speedway. Then Mr Toad's Wild Ride, the Matterhorn and Star Tours.  Unfortunately the Matterhorn temporarily shut down just after we got into the bobsleds.  We enjoyed seeing BB-8 from The Force Awakens in the Star Tours ride.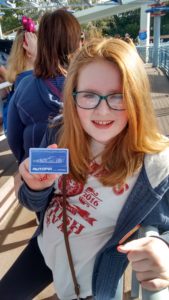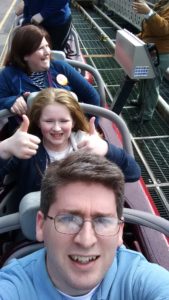 We then hiked over to California Adventure for lunch. I'm trying to remember now, I think Keira and I got pizza but Ceilidh and Tracy went to get corn dogs.  From where we were sitting we could see most of the latin themed parade out front.  We also picked up Radiator Springs fast passes that we would use later that day.
At this point we were pretty tired, but we did go to the Little Mermaid ride before heading back to the hotel to rest.
We crashed pretty hard and when we woke up and got back to California Adventure it was time for dinner so we went to Cocina Cucamonga. Our family loves Mexican food so this little quick serve restaurant really hit the spot.  Generally I really enjoyed the food at Disneyland.
After dinner we rode Toy Story Mania, Radiator Springs Racers and Luigi's Rollickin' Roadsters.  We ended the day by getting churros and watching the fireworks back in Magic Kingdom.