Sunday, December 4, 2016
The second day of our family vacation to Los Angeles.
Breakfast
Since we're still jet lagged we wake up early. The hotel breakfast doesn't start until 7, so to tide us over, Ceilidh and I walk to a nearby Yum Yum Donuts shop. We each got a donut and I think the consensus is that the chocolate glazed twist donuts were the best of the bunch.
Afterwards we went downstairs for the hotel breakfast. It was good too. I had the biscuits and sausage gravy.
Pacific Coast Highway
This morning we want to see the ocean. So we plan to drive north and take the Pacific Coast Highway (PCH) south and eventually we'll arrive at Santa Monica Pier.
Not long after getting on the PCH we find a beautiful, quiet place to pull over and watch the ocean waves crash against the rocks. It was very relaxing and peaceful. We took pictures and also just enjoyed the scenery for a while.  This was our first stop but little did we know that it would become our favorite spot along the PCH. No other spot was so beautiful and peaceful.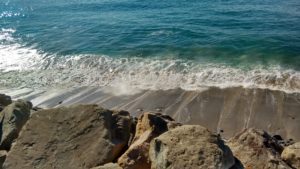 We continued driving up the coast, looking for another good spot to pull over. However, what we found was that the coast quickly gets more densely populated, so we didn't have much luck.  But the view was nice.
Santa Monica Pier
And we make it to the Santa Monica Pier.  First stop is the bathroom 🙂 Then, since we ate breakfast so early, we're hungry. Fortunately the restaurant we planned to eat at, Rusty's, opened at 11:30, about the time we got there.
Rusty's is good eats. It's decked out with a lot of surf boards. In the corner is a small stage and looks like they have live music on most nights.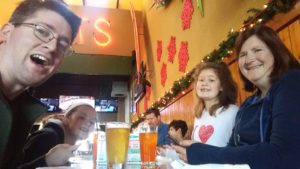 After Rusty's we walk around and take in the sights of the pier.  There are several street performers playing music as well as vendors making pieces of art.  Keira buys a piece of art that is a picture of dolphins painted on a small piece of glass.  We also just spent some time looking out over the water.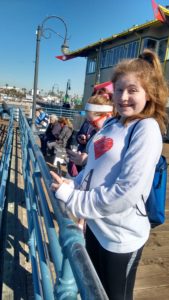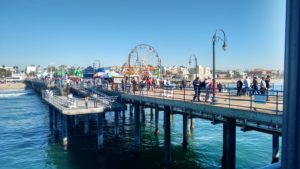 Keira and I decide we want to wade into the water for a little while. It's a little chilly so Tracy and Ceilidh decide to sit this one out.  Keira and I take off our shoes and find a same place to put them and then we start to walk into the water. The idea is to just wade in the water and to not get wet since we need to get back in the car and keep driving soon. However it's not too long until the water rolls in and Keira tries to quickly backpedal away from the rising water. She trips and falls down, getting her pants all wet. It was a pretty funny moment for us. I take off my jacket and she wraps it around her waist.  Then we get back into the water, this time a little wiser about how to deal with the waves rolling in.
Soon after we get back in the car and head to our Fairfield Inn, which is just across the street from Disneyland.
Downtown Disney
As is our tradition whenever we go to Disney World, the night before actually going into the parks we got check out Downtown Disney.  We get a bite to eat at Earl of Sandwich. I got the Original 1762 which is a hot roast beef with cheese and horseradish sauce. It is so savory and spicy, so good.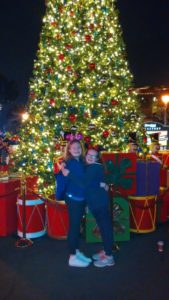 And then the shopping begins. All of the Christie girls love shopping and I like helping them find cute things to buy.  Ceilidh finds a stuffed Eeyore that she instantly falls in love with. Usually she would wait until she also sees what other things she might want to buy that are in the park, but she absolutely adores this Eeyore, love at first sight, so she buys it right then and there.