The Christie family spent a week in Los Angeles, seeing the sights and going to Disneyland.
Saturday, December 3rd, 2016
Flight to LAX
We wake up at 4am. Although we haven't slept much everyone is in good spirits and full of energy. We eat breakfast sandwiches that Tracy has prepared beforehand. We load up the car and set off for the Indianapolis airport.
When we get to the airport we park in the garage. We check in at Southwest. We have two checked bags and then Tracy and I each have one carry on, but the girls have two each since they also have their backpacks.
Getting through security was thankfully very smooth. For the most part we got to go through as a family. We get to the gate by 6:30, but our flight isn't until 8:30, so we have some time to kill.
This is the girls' first flight, so there are some nerves and excitement. We luck out and the flight isn't full. The place seats 3 on each side of the row, so we put the girls on the window seats with Tracy and I on the aisle seats, and with a seat between us.
In general we find the Southwest flight very pleasant. It helps that the plane isn't full. We have plenty of leg room. We appreciate the free snacks and drinks. And the girls like watching the free Disney channel TV.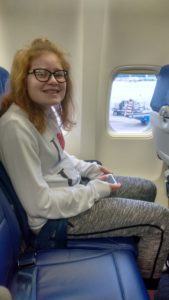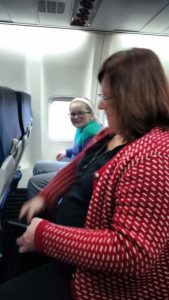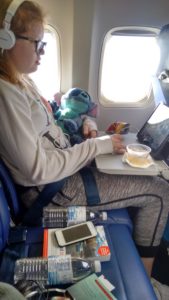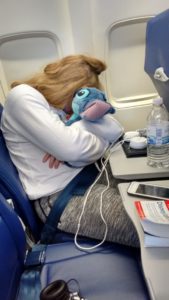 When we get to LAX we pick up a Dodge rental car from National. Now it's time to start exploring LA.
Bob's Big Boy
We're hungry because the flight was four hours long, so our first stop is Bob's Big Boy. Supposedly there is a table here where the Beatles ate one time, but it's too busy to request sitting at it. The burgers, shakes and sodas are great!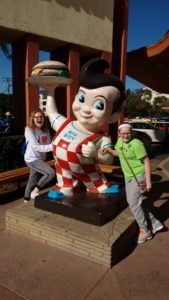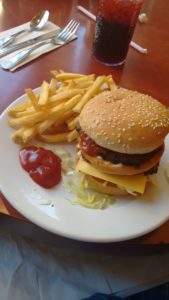 Walk of Fame
For our next stop we decide to go to the Walk of Fame and see if we can find the stars of some of our favorite actors and musicians.
This was a bit of a miss for us. The girls were not a little freaked out by the Chinese Christian group that was marching around with a bullhorn and loud speakers, loudly exonerating passersby that they need to convert. There were also all the usual vendors hawking their wares and the costumed characters trying to solicit donations for having their picture taken.
However, it was mostly a positive experience. We found several favorite stars. Probably our favorite part was the Chinese Theater which was less hectic and we got to see footprints and handprints of more favorite stars.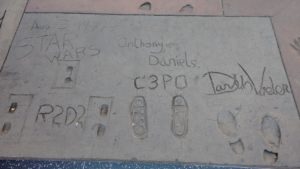 And then we were pooped…
After the Walk of Fame we checked into our hotel to get some rest and relaxation. We ended up taking a nap that lasted 2.5 hours! Even after the nap we were all feeling a little low-key, so we decided to stay in, order pizza and just chill out.